Posted on 18, November 2021 12:01:35 PM
---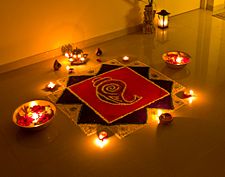 ---
Welcome to EdigaMatchmaker
Diwali (also: Deepawali) is one of India's biggest festivals. The word 'Deepawali' means rows of lighted lamps. It is a Festival of Lights and Hindus celebrate it with joy. During this festival, people light up their houses and shops with Diyas (small cup-shaped oil lamp made of baked clay). They worship Lord Ganesha for welfare and prosperity and Goddess Lakshmi for wealth and wisdom.
This festival is celebrated in the Hindu month of Kartikamasam which falls sometime during October or November. It is celebrated to mark the return of Lord Rama after 14 years of exile and his victory over the Demon Ravana. In many parts of India, Deepawali is celebrated for five consecutive days. Hindus regard it as a celebration of life and use the occasion to strengthen relationships. In some parts of India, it marks the beginning of a new year. People clean and decorate their house before the festival. They do colorful rangoli - art work on floors.
I like the post? Like this!